Aujourd'hui, journée neige !
Ce matin, nous nous sommes tous retrouvés au Lycée de Potsdam, certains sont venus en Yellow bus et d'autres avec leur correspondant en voiture. ???? Nous sommes entrés dans la cafétéria où nous avons mangé des donuts et bu du chocolat chaud. ????. 4 élèves américains nous ont présenté les différents sports pratiqués dans leur établissement. Ensuite la principale du lycée nous a fait une présentation des différentes activités qu'il proposait. Puis elle nous a posé des questions et ceux qui arrivaient à répondre aux questions ont gagné des petits cadeaux.
Nous sommes allés au Wild Center à Tupper Lake (à 1h de route)
It was very funny !
Nous avons découvert les animaux et les paysages locaux.
Après nous avons fait le tour du lac en raquettes. C'est très vite parti en bataille de boules de neige ! Ensuite nous avons visité des constructions de glace, c'était très impressionant !
Nous avons terminé la journée en allant voir le tremplin olympique des J.O. d'hiver.
Today, snowy day!
This morning, we all met at the Potsdam High School, some came in Yellow Bus and others with their correspondent in the car. ???? We walked into the cafeteria where we ate donuts and drank hot chocolate. . 4 American students presented us the different sports practiced in their establishment. Then the principal of the lycee gave us a presentation of the different activities that it offered. Then she asked us questions and what happened to answer questions had to win small gifts.
We went to the Wild Center in Tupper Lake (1 hour drive)
It was very funny!
We discovered the animals and the local landscape.
Afterwards we went around the lake on snowshoes. It is very soon in the battle of snowballs! Then we visited the ice constructions, it was very impressive!
We ended the day by going to the Olympic Winter Jump.
It was a good day and all the people had fun! ????
Texte par Théo / text by Théo
Photo de Gwendoline / Picture by Gwendoline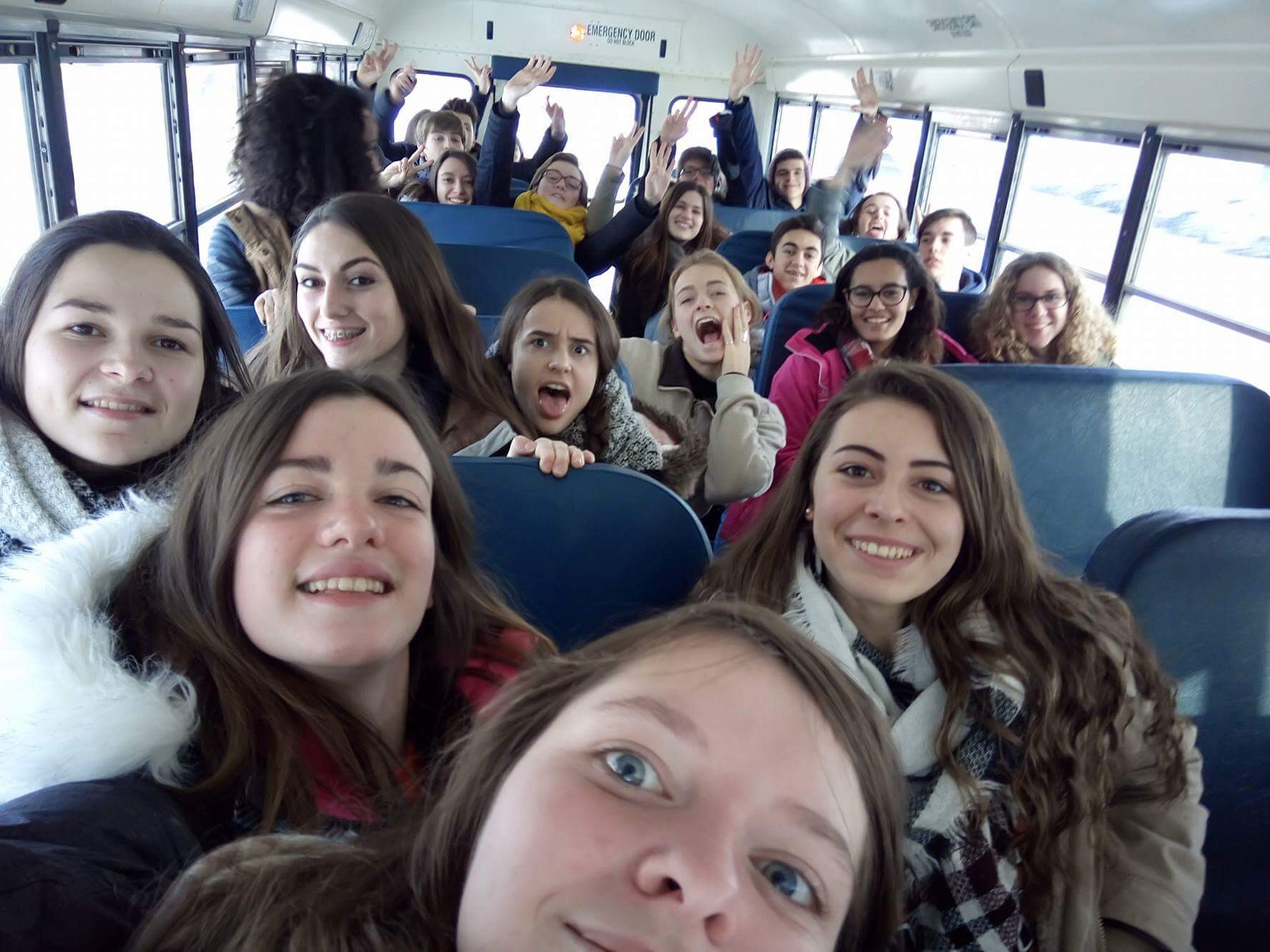 Photo de Lorie / Picture by Lorie :